Street Fighter Season 2 Episode 7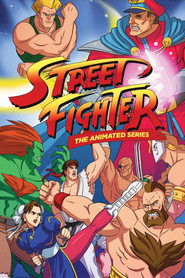 Street Fighter Season 2 Episode 7
Bison charges Cammy and his cybernetic creation La Lupa, to steal a priceless Kali statue for him. The statue has meditative powers that Bison hopes will help him heal his wounds from his previous battle with Guile. The street fighters team up with MI5 to help get to the bottom of Cammy's switched allegiances and during the battle, Cammy gets knocked on the head which frees her from Bison's mental control. Cammy then lures the street fighters to Bison's hideout, where she betrays them once more. Bison and Cammy are then able to escape.
Serie: Street Fighter
Director: Hiroshi Matsumoto, Takashi Nishiyama
Guest Star: Donna Yamamoto, Garry Chalk, John Payne, Kathleen Barr, Lisa Ann Beley, Lynda Boyd, Michael Dobson, Michael Donovan, Paul Dobson, Richard Newman, Robert O. Smith, Scott McNeil, Tong Lung
Episode Title: Cammy Must Die!
Air Date: 1996-11-23
Year: 1996